About Us
Spice's Restaurant & Takeaway is a Indian takeaway in Wednesbury. Why don't you try our Bhuna or Yamakah Bongsho?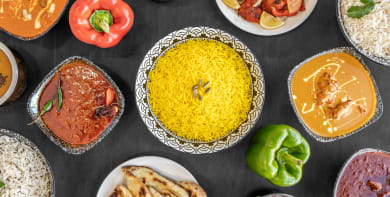 Reviews
130 reviews
glynis
"Excellent service great food and delivery early very pleasant driver what more can you ask for"
17/05/2020
Pat
"Excellent service and the food was lovely Would highly recommend"
16/05/2020
Bradley
"Very good again. Consistent which is what you want to see."
10/05/2020
Natalie
"Excellent food. Delivery driver was very polite and observant of current distancing rules"
09/05/2020
Menu
Set Meal for 1
1 Popadom, 1 onion bhaji, 1 chicken tikka balti, 1 bombay aloo & 1 pilau rice or naan
£10.95
Set Meal for 2
2 Popadom, 1 seekh kebab, 1 chicken tikka, 1 chicken tikka masala, 1 lamb rogan, 1 saag alo, 2 pilau rice & 1 naan
£22.95
Mach Biran (Sea Bass) Starter
£4.25
Nayari Mach Tikka (Monk Fish) Starter
£4.25
Spicy Fish Pakora (Pangash)
£3.50
Spicy King Prawns Starter
£3.95
Tandoori King Prawn Starter
£3.95
Tandoori Fish (Salmon) Starter
£3.95
Makoni Stir Fry Chicken
Breast filet chicken stuffed with cheese, cooked slowly in a oven, then stir fried with peppers, onions & light spices
£6.95
Chilli Masala - Chicken
Cooked in a fairly spicy sauce with fresh green chillies
£6.95
Garlic Tikka Bhuna - Chicken
Cooked with fresh garlic, herbs, spices & tomatoes. Medium hot
£6.95
Golden Curry
Mild dish cooked with mango & topped a fried omelette
£6.95
Adda Katta - Lamb
Tender pieces of lamb cooked with garlic, onions & tomatoes in a spicy sauce with ginger
£6.95
Chicken & King Prawn Chilli Bhuna
Chicken & king prawn cooked in a very rich spicy sauce with fresh green chillies, coriander & tomatoes
£7.95
Sisslin Stir Fry
Strips of chicken & lamb cooked then stir fried with fresh peppers & onions
£6.95
Tikka Chaat Masala - Chicken
Cooked with cucumber, onions, tomatoes & chaat spices
£6.95
Tandoori Mix Masala Chicken Tikka
Cooked in a mild & spicy sauce
£8.95
Tandoori Mix Masala King Prawn
Cooked in a mild & spicy sauce
£8.95
Tandoori Mix Masala Lamb Tikka
Cooked in a mild & spicy sauce
£8.95
Koliya Chicken
Tender chunks of chicken cooked with spicy potatoes in a slightly hot sauce
£6.95
Koliya King Prawn
Tender chunks of chicken cooked with spicy potatoes in a slightly hot sauce
£8.95
Koliya Mixed
Tender chunks of chicken cooked with spicy potatoes in a slightly hot sauce
£8.95
Makoni Bhuna Chicken
A medium dish cooked with chicken tikka, topped with melted cheese
£6.95
Makoni Bhuna King Prawn
A medium dish cooked with chicken tikka, topped with melted cheese
£8.95
Makoni Bhuna Mixed
A medium dish cooked with chicken tikka, topped with melted cheese
£8.95
Bakhari - Chicken
Chicken fillet filled with spicy spinach cooked with peppers, mushrooms & coriander in a medium spiced sauce
£6.95
Nagraj Chicken
Fairly spicy dish cooked with garlic, coriander, finely chopped chillies & hot pickle
£6.95
Nagraj King Prawn
Fairly spicy dish cooked with garlic, coriander, finely chopped chillies & hot pickle
£8.95
Nagraj Mixed
Fairly spicy dish cooked with garlic, coriander, finely chopped chillies & hot pickle
£8.95
Nargis Salon
Boiled egg wrapped around with mince lamb, cooked in a lovely rich sauce with small pieces of chicken with tomatoes & coriander
£6.95
Nilam Bhuna - Chicken
Breast chicken lightly spiced with herbs with a nice mince lamb filling, cooked in a medium spiced sauce with garlic & coriander
£6.95
Rushuni Mughlai Chicken
Tender strips of chicken cooked in a spicy sauce with garlic, coriander & peppers topped with a bed of spicy garlic fried mushrooms
£6.95
Rushuni Mughlai King Prawn
Tender strips of chicken cooked in a spicy sauce with garlic, coriander & peppers topped with a bed of spicy garlic fried mushrooms
£8.95
Rushuni Mughlai Mixed
Tender strips of chicken cooked in a spicy sauce with garlic, coriander & peppers topped with a bed of spicy garlic fried mushrooms
£8.95
Keema Bhundah
Breast fillet chicken filled with spicy minced lamb, then cooked in a rich sauce with peppers, onions & tomatoes
£6.95
Garlic Roasti Chicken
Spring chicken cooked in tandoori oven, garnished with fried garlic topped with thin fried potatoes
£6.95
Garlic Roasti King Prawn
Spring chicken cooked in tandoori oven, garnished with fried garlic topped with thin fried potatoes
£8.95
Garlic Roasti Mixed
Spring chicken cooked in tandoori oven, garnished with fried garlic topped with thin fried potatoes
£8.95
Amiron - Chicken
Strips of chicken & mince lamb cooked with peppers, onions & fresh green chillies in a spicy sauce
£6.95
Bengal Bhuna Chicken
Tender pieces of chicken cooked in a medium spiced sauce with tomatoes, garlic, coriander finely chopped chillies with a spicy egg
£6.95
Bengal Bhuna King Prawn
Tender pieces of chicken cooked in a medium spiced sauce with tomatoes, garlic, coriander finely chopped chillies with a spicy egg
£8.95
Bengal Bhuna Mixed
Tender pieces of chicken cooked in a medium spiced sauce with tomatoes, garlic, coriander finely chopped chillies with a spicy egg
£8.95
Bengal Muchamon Chicken
Tender cubes of chicken cooked with garlic, coriander & Bangladeshi green beans in a spicy sauce topped with roasted garlic crush
£6.95
Bengal Muchamon King Prawn
Tender cubes of chicken cooked with garlic, coriander & Bangladeshi green beans in a spicy sauce topped with roasted garlic crush
£8.95
Bengal Muchamon Mixed
Tender cubes of chicken cooked with garlic, coriander & Bangladeshi green beans in a spicy sauce topped with roasted garlic crush
£8.95
Akbors Khaas Chicken
Tender chunks of chicken cooked with bullet chillies, onions & peppers in a very rich spicy sauce
£6.95
Akbors Khaas King Prawn
Tender chunks of chicken cooked with bullet chillies, onions & peppers in a very rich spicy sauce
£8.95
Akbors Khaas Mixed
Tender chunks of chicken cooked with bullet chillies, onions & peppers in a very rich spicy sauce
£8.95
Burhani - Duck
Duck fillet ightly spiced, deep fried then cooked in a spicy sauce with garlic, coriander & lemon grass
£8.95
Shashlik Salon - Chicken
A dish cooked with chicken and minced lamb, peppers, onions & tomatoes on a skewer, soaked in a nice medium sauce, topped with crushed garlic
£6.95
Sorisha Mosalla Chicken
Tender pieces of chicken marinated in spices with a hint of mustard, cooked in a rich spicy sauce with onions, peppers, garlic & coriander
£6.95
Sorisha Mosalla King Prawn
Tender pieces of chicken marinated in spices with a hint of mustard, cooked in a rich spicy sauce with onions, peppers, garlic & coriander
£8.95
Sorisha Mosalla Mixed
Tender pieces of chicken marinated in spices with a hint of mustard, cooked in a rich spicy sauce with onions, peppers, garlic & coriander
£8.95
Sunali - Duck
Duck fillet marinated in yoghurt with mild spices, cooked in a clay oven then coated with a rich sweet tangy sauce
£8.95
Unah Bhundah - Chicken
Breast fillet chicken filled with garlic, coriander, tomatoes, medium
£6.95
Yamakah Bongsho Chicken
Strips of chicken, cooked with spinach, peppers, onions & tomatoes
£6.95
Yamakah Bongsho King Prawn
Strips of chicken, cooked with spinach, peppers, onions & tomatoes
£8.95
Yamakah Bongsho Mixed
Strips of chicken, cooked with spinach, peppers, onions & tomatoes
£8.95
Tarka Daal Main
Lentils & garlic
£5.50
Tarka Daal Side
Lentils & garlic
£2.95
Chana Bhaji Main
Chick peas
£5.50
Chana Bhaji Side
Chick peas
£2.95
Aloo Gobi Main
Potatoes & cauliflowers
£5.50
Aloo Gobi Side
Potatoes & cauliflowers
£2.95
Curry Sauce Main
Any flavours (please write your chosen flavour in the comments box on the next page)
£5.50
Curry Sauce Side
Any flavours (please write your chosen flavour in the comments box on the next page)
£2.95
Saag Aloo Main
Fresh spinach & potato
£5.50
Saag Aloo Side
Fresh spinach & potato
£2.95
Mixed Vegetable Bhaji Main
Mixed vegetable in spices
£5.50
Mixed Vegetable Bhaji Side
Mixed vegetable in spices
£2.95
Mixed Vegetable Curry Main
Mixed vegetable in spices
£5.50
Mixed Vegetable Curry Side
Mixed vegetable in spices
£2.95
Biryani Chicken
Our biryani dishes are cooked with basmati rice
£6.95
Biryani Lamb
Our biryani dishes are cooked with basmati rice
£6.95
Biryani Prawn
Our biryani dishes are cooked with basmati rice
£6.95
Biryani Vegetable
Our biryani dishes are cooked with basmati rice
£6.95
Biryani Chicken Tikka
Our biryani dishes are cooked with basmati rice
£7.95
Biryani Lamb Tikka
Our biryani dishes are cooked with basmati rice
£7.95
Biryani King Prawn
Our biryani dishes are cooked with basmati rice
£8.95
Tandoori Lamb Chops Starter
£3.95
Tandoori Chicken Stir Fry
£3.50
Garlic Salmon Karahi
A spicy dish cooked with salmon, peppers, onions & tomatoes, garlic & coriander in a slightly spicy sauce
£8.95
Haway Mach
Monk fillets cooked with chopped tomatoes, onions, garlic & coriander in a light medium spiced sauce
£8.95
Jaal Salmon Salon
Salmon fillets cooked with bullet chillies, chopped tomatoes, onions & coriander in a fairly hot & spicy sauce topped with roasted garlic crush
£8.95
Jhinga Jolok
Whole king prawns cooked in a spicy sauce with chopped tomatoes, garlic & coriander
£8.95
Kanda Wala Machli
Delicately cooked fish in medium spices with a lemon & coriander sauce
£7.95
Garlic Fish Salon
Delicately cooked fish in a rich spicy sauce with tomatoes & peppers
£7.95
Mach Palak
Sea bass fillets pan fried with light spices, cooked in a rich dry sauce with spicy potatoes & fresh spinach
£8.95
Mach Samba
Delicate white fish fillet cooked with peppers, coriander & spicy plumed tomatoes
£8.95
Samandar Bahar
Monk fillets cooked delicately with garlic, peppers, in a medium spiced sauce
£8.95
Prawn Saffani
Cooked with a lot of garlic & coriander with lemon & coriander sauce
£6.95
Sea Bilash
Sea bass fillets cooked with fresh green chillies, garlic & peppers in a slightly hot sauce with a hint of mustard
£8.95
Tandoori King Prawn Masala
Marinated king prawns cooked in a mild & spicy sauce
£8.95
Desi Kundah
Chicken, lamb & king prawn cooked in our very traditional bhuna sauce
£8.95
Golden Kundah Chicken
Delicately cooked chicken OR lamb in a medium bhuna sauce
£8.95
Golden Kundah Lamb
Delicately cooked chicken OR lamb in a medium bhuna sauce
£8.95
Garlic Chilli Kundah Chicken
Chicken OR lamb, spiced up with fresh garlic & green chillies in a rich sauce
£8.95
Garlic Chilli Kundah Lamb
Chicken OR lamb, spiced up with fresh garlic & green chillies in a rich sauce
£8.95
King Prawn Roast Potato Kundah
Marinated king prawns cooked with toast potatoes in a rich bhuna sauce
£9.95
Mitali Kundah
A very differently flavoured mild & sweet dish cooked with fruits
£8.95
Roshan Masala Kundah Chicken
Tender pieces of chicken OR lamb cooked a mild to medium sauce with a hint of sweetness
£8.95
Roshan Masala Kundah Lamb
Tender pieces of chicken OR lamb cooked a mild to medium sauce with a hint of sweetness
£8.95
Relish Kundah Chicken
Diced pieces of chicken OR lamb cooked with garlic & coriander in a spicy sauce
£8.95
Relish Kundah Lamb
Diced pieces of chicken OR lamb cooked with garlic & coriander in a spicy sauce
£8.95
Sisslin Kundah
Strips of chicken & lamb cooked with peppers & onions in a medium sauce
£8.95
Curry Chicken
Mild dish cooked with herbs & spices
£6.95
Curry Lamb
Mild dish cooked with herbs & spices
£6.95
Curry Prawn
Mild dish cooked with herbs & spices
£6.95
Curry Vegetable
Mild dish cooked with herbs & spices
£5.95
Curry Chicken Tikka
Mild dish cooked with herbs & spices
£6.95
Curry Lamb Tikka
Mild dish cooked with herbs & spices
£6.95
Curry King Prawn
Mild dish cooked with herbs & spices
£8.95
Tikka Masala Chicken
Lightly spiced, cooked with coconut & ground almonds
£6.95
Tikka Masala Lamb
Lightly spiced, cooked with coconut & ground almonds
£6.95
Tikka Masala Prawn
Lightly spiced, cooked with coconut & ground almonds
£6.95
Tikka Masala Vegetable
Lightly spiced, cooked with coconut & ground almonds
£6.95
Tikka Masala Chicken Tikka
Lightly spiced, cooked with coconut & ground almonds
£7.95
Tikka Masala Lamb Tikka
Lightly spiced, cooked with coconut & ground almonds
£7.95
Tikka Masala King Prawn
Lightly spiced, cooked with coconut & ground almonds
£8.95
Jalfrezi Chicken
A thick curry sauce made with variety of fresh spices, onion & fresh green chillies
£6.95
Jalfrezi Lamb
A thick curry sauce made with variety of fresh spices, onion & fresh green chillies
£6.95
Jalfrezi Prawn
A thick curry sauce made with variety of fresh spices, onion & fresh green chillies
£6.95
Jalfrezi Vegetable
A thick curry sauce made with variety of fresh spices, onion & fresh green chillies
£5.95
Jalfrezi Chicken Tikka
A thick curry sauce made with variety of fresh spices, onion & fresh green chillies
£6.95
Jalfrezi Lamb Tikka
A thick curry sauce made with variety of fresh spices, onion & fresh green chillies
£6.95
Jalfrezi King Prawn
A thick curry sauce made with variety of fresh spices, onion & fresh green chillies
£8.95
Korma Chicken
A sweet mild creamy dish cooked with almonds & coconut
£6.95
Korma Lamb
A sweet mild creamy dish cooked with almonds & coconut
£6.95
Korma Prawn
A sweet mild creamy dish cooked with almonds & coconut
£6.95
Korma Vegetable
A sweet mild creamy dish cooked with almonds & coconut
£5.95
Korma Chicken Tikka
A sweet mild creamy dish cooked with almonds & coconut
£6.95
Korma Lamb Tikka
A sweet mild creamy dish cooked with almonds & coconut
£6.95
Korma King Prawn
A sweet mild creamy dish cooked with almonds & coconut
£8.95
Dansak Chicken
A sweet mild creamy dish cooked in a rich sauce with lentils
£6.95
Dansak Lamb
A sweet mild creamy dish cooked in a rich sauce with lentils
£6.95
Dansak Prawn
A sweet mild creamy dish cooked in a rich sauce with lentils
£6.95
Dansak Vegetable
A sweet mild creamy dish cooked in a rich sauce with lentils
£5.95
Dansak Chicken Tikka
A sweet mild creamy dish cooked in a rich sauce with lentils
£6.95
Dansak Lamb Tikka
A sweet mild creamy dish cooked in a rich sauce with lentils
£6.95
Dansak King Prawn
A sweet mild creamy dish cooked in a rich sauce with lentils
£8.95
Balti Chicken
A medium dish cooked in a korai & then served in the dish enabling the flavour to infuse
£6.95
Balti Lamb
A medium dish cooked in a korai & then served in the dish enabling the flavour to infuse
£6.95
Balti Prawn
A medium dish cooked in a korai & then served in the dish enabling the flavour to infuse
£6.95
Balti Vegetable
A medium dish cooked in a korai & then served in the dish enabling the flavour to infuse
£5.95
Balti Chicken Tikka
A medium dish cooked in a korai & then served in the dish enabling the flavour to infuse
£6.95
Balti Lamb Tikka
A medium dish cooked in a korai & then served in the dish enabling the flavour to infuse
£6.95
Balti King Prawn
A medium dish cooked in a korai & then served in the dish enabling the flavour to infuse
£8.95
Pathia Chicken
A sweet, hot curry sauce with pimiento
£6.95
Pathia Lamb
A sweet, hot curry sauce with pimiento
£6.95
Pathia Prawn
A sweet, hot curry sauce with pimiento
£6.95
Pathia Vegetable
A sweet, hot curry sauce with pimiento
£5.95
Pathia Chicken Tikka
A sweet, hot curry sauce with pimiento
£6.95
Pathia Lamb Tikka
A sweet, hot curry sauce with pimiento
£6.95
Pathia King Prawn
A sweet, hot curry sauce with pimiento
£8.95
Madras Chicken
A fairly hot curry with a hint of lemon
£6.95
Madras Lamb
A fairly hot curry with a hint of lemon
£6.95
Madras Prawn
A fairly hot curry with a hint of lemon
£6.95
Madras Vegetable
A fairly hot curry with a hint of lemon
£5.95
Madras Chicken Tikka
A fairly hot curry with a hint of lemon
£6.95
Madras Lamb Tikka
A fairly hot curry with a hint of lemon
£6.95
Madras King Prawn
A fairly hot curry with a hint of lemon
£8.95
Vindaloo Chicken
A very hot curry with plenty of chillies
£6.95
Vindaloo Lamb
A very hot curry with plenty of chillies
£6.95
Vindaloo Prawn
A very hot curry with plenty of chillies
£6.95
Vindaloo Vegetable
A very hot curry with plenty of chillies
£5.95
Vindaloo Chicken Tikka
A very hot curry with plenty of chillies
£6.95
Vindaloo Lamb Tikka
A very hot curry with plenty of chillies
£6.95
Vindaloo King Prawn
A very hot curry with plenty of chillies
£8.95
Bhuna Chicken
A fairly thick sauce, medium spiced, cooked with onions, tomatoes & coriander
£6.95
Bhuna Lamb
A fairly thick sauce, medium spiced, cooked with onions, tomatoes & coriander
£6.95
Bhuna Prawn
A fairly thick sauce, medium spiced, cooked with onions, tomatoes & coriander
£6.95
Bhuna Vegetable
A fairly thick sauce, medium spiced, cooked with onions, tomatoes & coriander
£5.95
Bhuna Chicken Tikka
A fairly thick sauce, medium spiced, cooked with onions, tomatoes & coriander
£6.95
Bhuna Lamb Tikka
A fairly thick sauce, medium spiced, cooked with onions, tomatoes & coriander
£6.95
Bhuna King Prawn
A fairly thick sauce, medium spiced, cooked with onions, tomatoes & coriander
£8.95
Pasanda Chicken
This dish is mild, cooked with almonds & cream, them with subtle spices
£6.95
Pasanda Lamb
This dish is mild, cooked with almonds & cream, them with subtle spices
£6.95
Pasanda Prawn
This dish is mild, cooked with almonds & cream, them with subtle spices
£6.95
Pasanda Vegetable
This dish is mild, cooked with almonds & cream, them with subtle spices
£5.95
Pasanda Chicken Tikka
This dish is mild, cooked with almonds & cream, them with subtle spices
£6.95
Pasanda Lamb Tikka
This dish is mild, cooked with almonds & cream, them with subtle spices
£6.95
Pasanda King Prawn
This dish is mild, cooked with almonds & cream, them with subtle spices
£8.95
Karahi Chicken
Fairly hot sauce consisting of tomatoes, slices of onion & capsicum, garlic & ginger
£6.95
Karahi Lamb
Fairly hot sauce consisting of tomatoes, slices of onion & capsicum, garlic & ginger
£6.95
Karahi Prawn
Fairly hot sauce consisting of tomatoes, slices of onion & capsicum, garlic & ginger
£6.95
Karahi Vegetable
Fairly hot sauce consisting of tomatoes, slices of onion & capsicum, garlic & ginger
£5.95
Karahi Chicken Tikka
Fairly hot sauce consisting of tomatoes, slices of onion & capsicum, garlic & ginger
£6.95
Karahi Lamb Tikka
Fairly hot sauce consisting of tomatoes, slices of onion & capsicum, garlic & ginger
£6.95
Karahi King Prawn
Fairly hot sauce consisting of tomatoes, slices of onion & capsicum, garlic & ginger
£8.95
Rogan Josh Chicken
Cooked in a medium spiced sauce with a spicy chopped tomato & garlic
£6.95
Rogan Josh Lamb
Cooked in a medium spiced sauce with a spicy chopped tomato & garlic
£6.95
Rogan Josh Prawn
Cooked in a medium spiced sauce with a spicy chopped tomato & garlic
£6.95
Rogan Josh Vegetable
Cooked in a medium spiced sauce with a spicy chopped tomato & garlic
£5.95
Rogan Josh Chicken Tikka
Cooked in a medium spiced sauce with a spicy chopped tomato & garlic
£6.95
Rogan Josh Lamb Tikka
Cooked in a medium spiced sauce with a spicy chopped tomato & garlic
£6.95
Rogan Josh King Prawn
Cooked in a medium spiced sauce with a spicy chopped tomato & garlic
£8.95
Saag Chicken
Medium hot curry with spinach
£6.95
Saag Lamb
Medium hot curry with spinach
£6.95
Saag Prawn
Medium hot curry with spinach
£6.95
Saag Vegetable
Medium hot curry with spinach
£5.95
Saag Chicken Tikka
Medium hot curry with spinach
£6.95
Saag Lamb Tikka
Medium hot curry with spinach
£6.95
Saag King Prawn
Medium hot curry with spinach
£8.95
Chicken Shaslik Main
Grilled onions, tomatoes & peppers
£6.95
Lamb Shashlik Main
Grilled onions, tomatoes & peppers
£7.50
Tandoori Mixed Grill Main
Chicken on or off the bone
£7.95
Pepsi - 1.5 litre (Bottle)
£2.25
J2O Orange & Passionfruit
£1.35
Contact Us
Find Us
81 Holyhead Road, Wednesbury, WS107PA
We deliver to
B70, B71, DY4, WS10, WS2, WV14