About Us
Spice's Restaurant & Takeaway is a Indian takeaway in Wednesbury. Why don't you try our Bhuna or Yamakah Bongsho?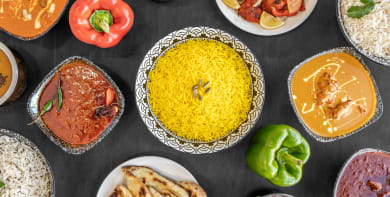 Reviews
163 reviews
Jessica
"My favourite Indian restaurant by far. Thank you for delivering in a safe manner."
20/11/2020
Karl
"Lovely food - you won't be disappointed"
12/11/2020
Andrew
"Excellent service, great food"
01/11/2020
lee
"food really nice pity that they couldnt find me but thats the same with new places where i order from"
31/10/2020
Menu
Set Meal for 1
1 Popadom, 1 onion bhaji, 1 chicken tikka balti, 1 bombay aloo & 1 pilau rice or naan
£10.95
Set Meal for 2
2 Popadom, 1 seekh kebab, 1 chicken tikka, 1 chicken tikka masala, 1 lamb rogan, 1 saag alo, 2 pilau rice & 1 naan
£22.95
Mach Biran (Sea Bass) Starter
£4.25
Nayari Mach Tikka (Monk Fish) Starter
£4.25
Spicy Fish Pakora (Pangash)
£3.50
Spicy King Prawns Starter
£3.95
Tandoori King Prawn Starter
£3.95
Tandoori Fish (Salmon) Starter
£3.95
Makoni Stir Fry Chicken
Breast filet chicken stuffed with cheese, cooked slowly in a oven, then stir fried with peppers, onions & light spices
£6.95
Chilli Masala - Chicken
Cooked in a fairly spicy sauce with fresh green chillies
£6.95
Garlic Tikka Bhuna - Chicken
Cooked with fresh garlic, herbs, spices & tomatoes. Medium hot
£6.95
Golden Curry
Mild dish cooked with mango & topped a fried omelette
£6.95
Adda Katta - Lamb
Tender pieces of lamb cooked with garlic, onions & tomatoes in a spicy sauce with ginger
£6.95
Chicken & King Prawn Chilli Bhuna
Chicken & king prawn cooked in a very rich spicy sauce with fresh green chillies, coriander & tomatoes
£7.95
Sisslin Stir Fry
Strips of chicken & lamb cooked then stir fried with fresh peppers & onions
£6.95
Tikka Chaat Masala - Chicken
Cooked with cucumber, onions, tomatoes & chaat spices
£6.95
Tandoori Mix Masala Chicken Tikka
Cooked in a mild & spicy sauce
£8.95
Tandoori Mix Masala King Prawn
Cooked in a mild & spicy sauce
£8.95
Tandoori Mix Masala Lamb Tikka
Cooked in a mild & spicy sauce
£8.95
Koliya Chicken
Tender chunks of chicken cooked with spicy potatoes in a slightly hot sauce
£6.95
Koliya King Prawn
Tender chunks of chicken cooked with spicy potatoes in a slightly hot sauce
£8.95
Koliya Mixed
Tender chunks of chicken cooked with spicy potatoes in a slightly hot sauce
£8.95
Makoni Bhuna Chicken
A medium dish cooked with chicken tikka, topped with melted cheese
£6.95
Makoni Bhuna King Prawn
A medium dish cooked with chicken tikka, topped with melted cheese
£8.95
Makoni Bhuna Mixed
A medium dish cooked with chicken tikka, topped with melted cheese
£8.95
Bakhari - Chicken
Chicken fillet filled with spicy spinach cooked with peppers, mushrooms & coriander in a medium spiced sauce
£6.95
Nagraj Chicken
Fairly spicy dish cooked with garlic, coriander, finely chopped chillies & hot pickle
£6.95
Nagraj King Prawn
Fairly spicy dish cooked with garlic, coriander, finely chopped chillies & hot pickle
£8.95
Nagraj Mixed
Fairly spicy dish cooked with garlic, coriander, finely chopped chillies & hot pickle
£8.95
Nargis Salon
Boiled egg wrapped around with mince lamb, cooked in a lovely rich sauce with small pieces of chicken with tomatoes & coriander
£6.95
Nilam Bhuna - Chicken
Breast chicken lightly spiced with herbs with a nice mince lamb filling, cooked in a medium spiced sauce with garlic & coriander
£6.95
Rushuni Mughlai Chicken
Tender strips of chicken cooked in a spicy sauce with garlic, coriander & peppers topped with a bed of spicy garlic fried mushrooms
£6.95
Rushuni Mughlai King Prawn
Tender strips of chicken cooked in a spicy sauce with garlic, coriander & peppers topped with a bed of spicy garlic fried mushrooms
£8.95
Rushuni Mughlai Mixed
Tender strips of chicken cooked in a spicy sauce with garlic, coriander & peppers topped with a bed of spicy garlic fried mushrooms
£8.95
Keema Bhundah
Breast fillet chicken filled with spicy minced lamb, then cooked in a rich sauce with peppers, onions & tomatoes
£6.95
Garlic Roasti Chicken
Spring chicken cooked in tandoori oven, garnished with fried garlic topped with thin fried potatoes
£6.95
Garlic Roasti King Prawn
Spring chicken cooked in tandoori oven, garnished with fried garlic topped with thin fried potatoes
£8.95
Garlic Roasti Mixed
Spring chicken cooked in tandoori oven, garnished with fried garlic topped with thin fried potatoes
£8.95
Amiron - Chicken
Strips of chicken & mince lamb cooked with peppers, onions & fresh green chillies in a spicy sauce
£6.95
Bengal Bhuna Chicken
Tender pieces of chicken cooked in a medium spiced sauce with tomatoes, garlic, coriander finely chopped chillies with a spicy egg
£6.95
Bengal Bhuna King Prawn
Tender pieces of chicken cooked in a medium spiced sauce with tomatoes, garlic, coriander finely chopped chillies with a spicy egg
£8.95
Bengal Bhuna Mixed
Tender pieces of chicken cooked in a medium spiced sauce with tomatoes, garlic, coriander finely chopped chillies with a spicy egg
£8.95
Bengal Muchamon Chicken
Tender cubes of chicken cooked with garlic, coriander & Bangladeshi green beans in a spicy sauce topped with roasted garlic crush
£6.95
Bengal Muchamon King Prawn
Tender cubes of chicken cooked with garlic, coriander & Bangladeshi green beans in a spicy sauce topped with roasted garlic crush
£8.95
Bengal Muchamon Mixed
Tender cubes of chicken cooked with garlic, coriander & Bangladeshi green beans in a spicy sauce topped with roasted garlic crush
£8.95
Akbors Khaas Chicken
Tender chunks of chicken cooked with bullet chillies, onions & peppers in a very rich spicy sauce
£6.95
Akbors Khaas King Prawn
Tender chunks of chicken cooked with bullet chillies, onions & peppers in a very rich spicy sauce
£8.95
Akbors Khaas Mixed
Tender chunks of chicken cooked with bullet chillies, onions & peppers in a very rich spicy sauce
£8.95
Burhani - Duck
Duck fillet ightly spiced, deep fried then cooked in a spicy sauce with garlic, coriander & lemon grass
£8.95
Shashlik Salon - Chicken
A dish cooked with chicken and minced lamb, peppers, onions & tomatoes on a skewer, soaked in a nice medium sauce, topped with crushed garlic
£6.95
Sorisha Mosalla Chicken
Tender pieces of chicken marinated in spices with a hint of mustard, cooked in a rich spicy sauce with onions, peppers, garlic & coriander
£6.95
Sorisha Mosalla King Prawn
Tender pieces of chicken marinated in spices with a hint of mustard, cooked in a rich spicy sauce with onions, peppers, garlic & coriander
£8.95
Sorisha Mosalla Mixed
Tender pieces of chicken marinated in spices with a hint of mustard, cooked in a rich spicy sauce with onions, peppers, garlic & coriander
£8.95
Sunali - Duck
Duck fillet marinated in yoghurt with mild spices, cooked in a clay oven then coated with a rich sweet tangy sauce
£8.95
Unah Bhundah - Chicken
Breast fillet chicken filled with garlic, coriander, tomatoes, medium
£6.95
Yamakah Bongsho Chicken
Strips of chicken, cooked with spinach, peppers, onions & tomatoes
£6.95
Yamakah Bongsho King Prawn
Strips of chicken, cooked with spinach, peppers, onions & tomatoes
£8.95
Yamakah Bongsho Mixed
Strips of chicken, cooked with spinach, peppers, onions & tomatoes
£8.95
Tarka Daal Main
Lentils & garlic
£5.50
Tarka Daal Side
Lentils & garlic
£2.95
Chana Bhaji Main
Chick peas
£5.50
Chana Bhaji Side
Chick peas
£2.95
Aloo Gobi Main
Potatoes & cauliflowers
£5.50
Aloo Gobi Side
Potatoes & cauliflowers
£2.95
Curry Sauce Main
Any flavours (please write your chosen flavour in the comments box on the next page)
£5.50
Curry Sauce Side
Any flavours (please write your chosen flavour in the comments box on the next page)
£2.95
Saag Aloo Main
Fresh spinach & potato
£5.50
Saag Aloo Side
Fresh spinach & potato
£2.95
Mixed Vegetable Bhaji Main
Mixed vegetable in spices
£5.50
Mixed Vegetable Bhaji Side
Mixed vegetable in spices
£2.95
Mixed Vegetable Curry Main
Mixed vegetable in spices
£5.50
Mixed Vegetable Curry Side
Mixed vegetable in spices
£2.95
Biryani Chicken
Our biryani dishes are cooked with basmati rice
£6.95
Biryani Lamb
Our biryani dishes are cooked with basmati rice
£6.95
Biryani Prawn
Our biryani dishes are cooked with basmati rice
£6.95
Biryani Vegetable
Our biryani dishes are cooked with basmati rice
£6.95
Biryani Chicken Tikka
Our biryani dishes are cooked with basmati rice
£7.95
Biryani Lamb Tikka
Our biryani dishes are cooked with basmati rice
£7.95
Biryani King Prawn
Our biryani dishes are cooked with basmati rice
£8.95
Tandoori Lamb Chops Starter
£3.95
Tandoori Chicken Stir Fry
£3.50
Garlic Salmon Karahi
A spicy dish cooked with salmon, peppers, onions & tomatoes, garlic & coriander in a slightly spicy sauce
£8.95
Haway Mach
Monk fillets cooked with chopped tomatoes, onions, garlic & coriander in a light medium spiced sauce
£8.95
Jaal Salmon Salon
Salmon fillets cooked with bullet chillies, chopped tomatoes, onions & coriander in a fairly hot & spicy sauce topped with roasted garlic crush
£8.95
Jhinga Jolok
Whole king prawns cooked in a spicy sauce with chopped tomatoes, garlic & coriander
£8.95
Kanda Wala Machli
Delicately cooked fish in medium spices with a lemon & coriander sauce
£7.95
Garlic Fish Salon
Delicately cooked fish in a rich spicy sauce with tomatoes & peppers
£7.95
Mach Palak
Sea bass fillets pan fried with light spices, cooked in a rich dry sauce with spicy potatoes & fresh spinach
£8.95
Mach Samba
Delicate white fish fillet cooked with peppers, coriander & spicy plumed tomatoes
£8.95
Samandar Bahar
Monk fillets cooked delicately with garlic, peppers, in a medium spiced sauce
£8.95
Prawn Saffani
Cooked with a lot of garlic & coriander with lemon & coriander sauce
£6.95
Sea Bilash
Sea bass fillets cooked with fresh green chillies, garlic & peppers in a slightly hot sauce with a hint of mustard
£8.95
Tandoori King Prawn Masala
Marinated king prawns cooked in a mild & spicy sauce
£8.95
Desi Kundah
Chicken, lamb & king prawn cooked in our very traditional bhuna sauce
£8.95
Golden Kundah Chicken
Delicately cooked chicken OR lamb in a medium bhuna sauce
£8.95
Golden Kundah Lamb
Delicately cooked chicken OR lamb in a medium bhuna sauce
£8.95
Garlic Chilli Kundah Chicken
Chicken OR lamb, spiced up with fresh garlic & green chillies in a rich sauce
£8.95
Garlic Chilli Kundah Lamb
Chicken OR lamb, spiced up with fresh garlic & green chillies in a rich sauce
£8.95
King Prawn Roast Potato Kundah
Marinated king prawns cooked with toast potatoes in a rich bhuna sauce
£9.95
Mitali Kundah
A very differently flavoured mild & sweet dish cooked with fruits
£8.95
Roshan Masala Kundah Chicken
Tender pieces of chicken OR lamb cooked a mild to medium sauce with a hint of sweetness
£8.95
Roshan Masala Kundah Lamb
Tender pieces of chicken OR lamb cooked a mild to medium sauce with a hint of sweetness
£8.95
Relish Kundah Chicken
Diced pieces of chicken OR lamb cooked with garlic & coriander in a spicy sauce
£8.95
Relish Kundah Lamb
Diced pieces of chicken OR lamb cooked with garlic & coriander in a spicy sauce
£8.95
Sisslin Kundah
Strips of chicken & lamb cooked with peppers & onions in a medium sauce
£8.95
Curry Chicken
Mild dish cooked with herbs & spices
£6.95
Curry Lamb
Mild dish cooked with herbs & spices
£6.95
Curry Prawn
Mild dish cooked with herbs & spices
£6.95
Curry Vegetable
Mild dish cooked with herbs & spices
£5.95
Curry Chicken Tikka
Mild dish cooked with herbs & spices
£6.95
Curry Lamb Tikka
Mild dish cooked with herbs & spices
£6.95
Curry King Prawn
Mild dish cooked with herbs & spices
£8.95
Tikka Masala Chicken
Lightly spiced, cooked with coconut & ground almonds
£6.95
Tikka Masala Lamb
Lightly spiced, cooked with coconut & ground almonds
£6.95
Tikka Masala Prawn
Lightly spiced, cooked with coconut & ground almonds
£6.95
Tikka Masala Vegetable
Lightly spiced, cooked with coconut & ground almonds
£6.95
Tikka Masala Chicken Tikka
Lightly spiced, cooked with coconut & ground almonds
£7.95
Tikka Masala Lamb Tikka
Lightly spiced, cooked with coconut & ground almonds
£7.95
Tikka Masala King Prawn
Lightly spiced, cooked with coconut & ground almonds
£8.95
Jalfrezi Chicken
A thick curry sauce made with variety of fresh spices, onion & fresh green chillies
£6.95
Jalfrezi Lamb
A thick curry sauce made with variety of fresh spices, onion & fresh green chillies
£6.95
Jalfrezi Prawn
A thick curry sauce made with variety of fresh spices, onion & fresh green chillies
£6.95
Jalfrezi Vegetable
A thick curry sauce made with variety of fresh spices, onion & fresh green chillies
£5.95
Jalfrezi Chicken Tikka
A thick curry sauce made with variety of fresh spices, onion & fresh green chillies
£6.95
Jalfrezi Lamb Tikka
A thick curry sauce made with variety of fresh spices, onion & fresh green chillies
£6.95
Jalfrezi King Prawn
A thick curry sauce made with variety of fresh spices, onion & fresh green chillies
£8.95
Korma Chicken
A sweet mild creamy dish cooked with almonds & coconut
£6.95
Korma Lamb
A sweet mild creamy dish cooked with almonds & coconut
£6.95
Korma Prawn
A sweet mild creamy dish cooked with almonds & coconut
£6.95
Korma Vegetable
A sweet mild creamy dish cooked with almonds & coconut
£5.95
Korma Chicken Tikka
A sweet mild creamy dish cooked with almonds & coconut
£6.95
Korma Lamb Tikka
A sweet mild creamy dish cooked with almonds & coconut
£6.95
Korma King Prawn
A sweet mild creamy dish cooked with almonds & coconut
£8.95
Dansak Chicken
A sweet mild creamy dish cooked in a rich sauce with lentils
£6.95
Dansak Lamb
A sweet mild creamy dish cooked in a rich sauce with lentils
£6.95
Dansak Prawn
A sweet mild creamy dish cooked in a rich sauce with lentils
£6.95
Dansak Vegetable
A sweet mild creamy dish cooked in a rich sauce with lentils
£5.95
Dansak Chicken Tikka
A sweet mild creamy dish cooked in a rich sauce with lentils
£6.95
Dansak Lamb Tikka
A sweet mild creamy dish cooked in a rich sauce with lentils
£6.95
Dansak King Prawn
A sweet mild creamy dish cooked in a rich sauce with lentils
£8.95
Balti Chicken
A medium dish cooked in a korai & then served in the dish enabling the flavour to infuse
£6.95
Balti Lamb
A medium dish cooked in a korai & then served in the dish enabling the flavour to infuse
£6.95
Balti Prawn
A medium dish cooked in a korai & then served in the dish enabling the flavour to infuse
£6.95
Balti Vegetable
A medium dish cooked in a korai & then served in the dish enabling the flavour to infuse
£5.95
Balti Chicken Tikka
A medium dish cooked in a korai & then served in the dish enabling the flavour to infuse
£6.95
Balti Lamb Tikka
A medium dish cooked in a korai & then served in the dish enabling the flavour to infuse
£6.95
Balti King Prawn
A medium dish cooked in a korai & then served in the dish enabling the flavour to infuse
£8.95
Pathia Chicken
A sweet, hot curry sauce with pimiento
£6.95
Pathia Lamb
A sweet, hot curry sauce with pimiento
£6.95
Pathia Prawn
A sweet, hot curry sauce with pimiento
£6.95
Pathia Vegetable
A sweet, hot curry sauce with pimiento
£5.95
Pathia Chicken Tikka
A sweet, hot curry sauce with pimiento
£6.95
Pathia Lamb Tikka
A sweet, hot curry sauce with pimiento
£6.95
Pathia King Prawn
A sweet, hot curry sauce with pimiento
£8.95
Madras Chicken
A fairly hot curry with a hint of lemon
£6.95
Madras Lamb
A fairly hot curry with a hint of lemon
£6.95
Madras Prawn
A fairly hot curry with a hint of lemon
£6.95
Madras Vegetable
A fairly hot curry with a hint of lemon
£5.95
Madras Chicken Tikka
A fairly hot curry with a hint of lemon
£6.95
Madras Lamb Tikka
A fairly hot curry with a hint of lemon
£6.95
Madras King Prawn
A fairly hot curry with a hint of lemon
£8.95
Vindaloo Chicken
A very hot curry with plenty of chillies
£6.95
Vindaloo Lamb
A very hot curry with plenty of chillies
£6.95
Vindaloo Prawn
A very hot curry with plenty of chillies
£6.95
Vindaloo Vegetable
A very hot curry with plenty of chillies
£5.95
Vindaloo Chicken Tikka
A very hot curry with plenty of chillies
£6.95
Vindaloo Lamb Tikka
A very hot curry with plenty of chillies
£6.95
Vindaloo King Prawn
A very hot curry with plenty of chillies
£8.95
Bhuna Chicken
A fairly thick sauce, medium spiced, cooked with onions, tomatoes & coriander
£6.95
Bhuna Lamb
A fairly thick sauce, medium spiced, cooked with onions, tomatoes & coriander
£6.95
Bhuna Prawn
A fairly thick sauce, medium spiced, cooked with onions, tomatoes & coriander
£6.95
Bhuna Vegetable
A fairly thick sauce, medium spiced, cooked with onions, tomatoes & coriander
£5.95
Bhuna Chicken Tikka
A fairly thick sauce, medium spiced, cooked with onions, tomatoes & coriander
£6.95
Bhuna Lamb Tikka
A fairly thick sauce, medium spiced, cooked with onions, tomatoes & coriander
£6.95
Bhuna King Prawn
A fairly thick sauce, medium spiced, cooked with onions, tomatoes & coriander
£8.95
Pasanda Chicken
This dish is mild, cooked with almonds & cream, them with subtle spices
£6.95
Pasanda Lamb
This dish is mild, cooked with almonds & cream, them with subtle spices
£6.95
Pasanda Prawn
This dish is mild, cooked with almonds & cream, them with subtle spices
£6.95
Pasanda Vegetable
This dish is mild, cooked with almonds & cream, them with subtle spices
£5.95
Pasanda Chicken Tikka
This dish is mild, cooked with almonds & cream, them with subtle spices
£6.95
Pasanda Lamb Tikka
This dish is mild, cooked with almonds & cream, them with subtle spices
£6.95
Pasanda King Prawn
This dish is mild, cooked with almonds & cream, them with subtle spices
£8.95
Karahi Chicken
Fairly hot sauce consisting of tomatoes, slices of onion & capsicum, garlic & ginger
£6.95
Karahi Lamb
Fairly hot sauce consisting of tomatoes, slices of onion & capsicum, garlic & ginger
£6.95
Karahi Prawn
Fairly hot sauce consisting of tomatoes, slices of onion & capsicum, garlic & ginger
£6.95
Karahi Vegetable
Fairly hot sauce consisting of tomatoes, slices of onion & capsicum, garlic & ginger
£5.95
Karahi Chicken Tikka
Fairly hot sauce consisting of tomatoes, slices of onion & capsicum, garlic & ginger
£6.95
Karahi Lamb Tikka
Fairly hot sauce consisting of tomatoes, slices of onion & capsicum, garlic & ginger
£6.95
Karahi King Prawn
Fairly hot sauce consisting of tomatoes, slices of onion & capsicum, garlic & ginger
£8.95
Rogan Josh Chicken
Cooked in a medium spiced sauce with a spicy chopped tomato & garlic
£6.95
Rogan Josh Lamb
Cooked in a medium spiced sauce with a spicy chopped tomato & garlic
£6.95
Rogan Josh Prawn
Cooked in a medium spiced sauce with a spicy chopped tomato & garlic
£6.95
Rogan Josh Vegetable
Cooked in a medium spiced sauce with a spicy chopped tomato & garlic
£5.95
Rogan Josh Chicken Tikka
Cooked in a medium spiced sauce with a spicy chopped tomato & garlic
£6.95
Rogan Josh Lamb Tikka
Cooked in a medium spiced sauce with a spicy chopped tomato & garlic
£6.95
Rogan Josh King Prawn
Cooked in a medium spiced sauce with a spicy chopped tomato & garlic
£8.95
Saag Chicken
Medium hot curry with spinach
£6.95
Saag Lamb
Medium hot curry with spinach
£6.95
Saag Prawn
Medium hot curry with spinach
£6.95
Saag Vegetable
Medium hot curry with spinach
£5.95
Saag Chicken Tikka
Medium hot curry with spinach
£6.95
Saag Lamb Tikka
Medium hot curry with spinach
£6.95
Saag King Prawn
Medium hot curry with spinach
£8.95
Chicken Shaslik Main
Grilled onions, tomatoes & peppers
£6.95
Lamb Shashlik Main
Grilled onions, tomatoes & peppers
£7.50
Tandoori Mixed Grill Main
Chicken on or off the bone
£7.95
Pepsi - 1.5 litre (Bottle)
£2.25
J2O Orange & Passionfruit
£1.35
Bottle of Coke - 1.5 Litre
£2.50
Bottle of Diet Coke - 1.5 Litre
£2.50
Contact Us
Find Us
81 Holyhead Road, Wednesbury, WS107PA
We deliver to
B70, B71, DY4, WS10, WS2, WV14